Status of Corporate Governance
Our basic corporate governance philosophy
Our corporate mission is to contribute to the well-being and happiness of people globally through developing therapeutic drugs based on new concepts. To pursue and achieve this corporate mission and further increase our corporate value, we recognize that reinforcing and enhancing corporate governance are an important business issue. In a changing business environment, we aim for perpetual development and growth, to continuously maximize our corporate value. To earn the trust of our shareholders and all other stakeholders, we will ensure healthy and efficient management by endeavoring to build an optimal management structure and work to reinforce management auditing functions and ensure highly transparent management through appropriate information disclosure.
Corporate governance structure
Our board of directors consists of five directors (including two external director). The board of directors holds regular monthly meetings once per month, and extraordinary meetings as necessary, to allow rapid executive decision-making. It decides on the items in our regulations and articles of incorporation and important items relating to management, and audits the status of execution of work by each director. Personnel with detailed knowledge of the pharmaceutical manufacturing industry and corporate management are hired as directors, to enhance the business auditing functions of the board of directors. StemRIM uses an auditing committee system, with an auditing committee consisting of three auditors (of which all three are external auditors), including one permanent auditor. Auditors attend the meetings of the board of directors and give opinions if necessary, and audit the execution of work by directors. In principle, regular auditing committee meetings are held once per month, with extraordinary auditing committee meetings held if necessary, to design auditing plans, to investigate information such as the status and results of audits and share this information between the auditors.
The layout of our corporate governance system is as follows.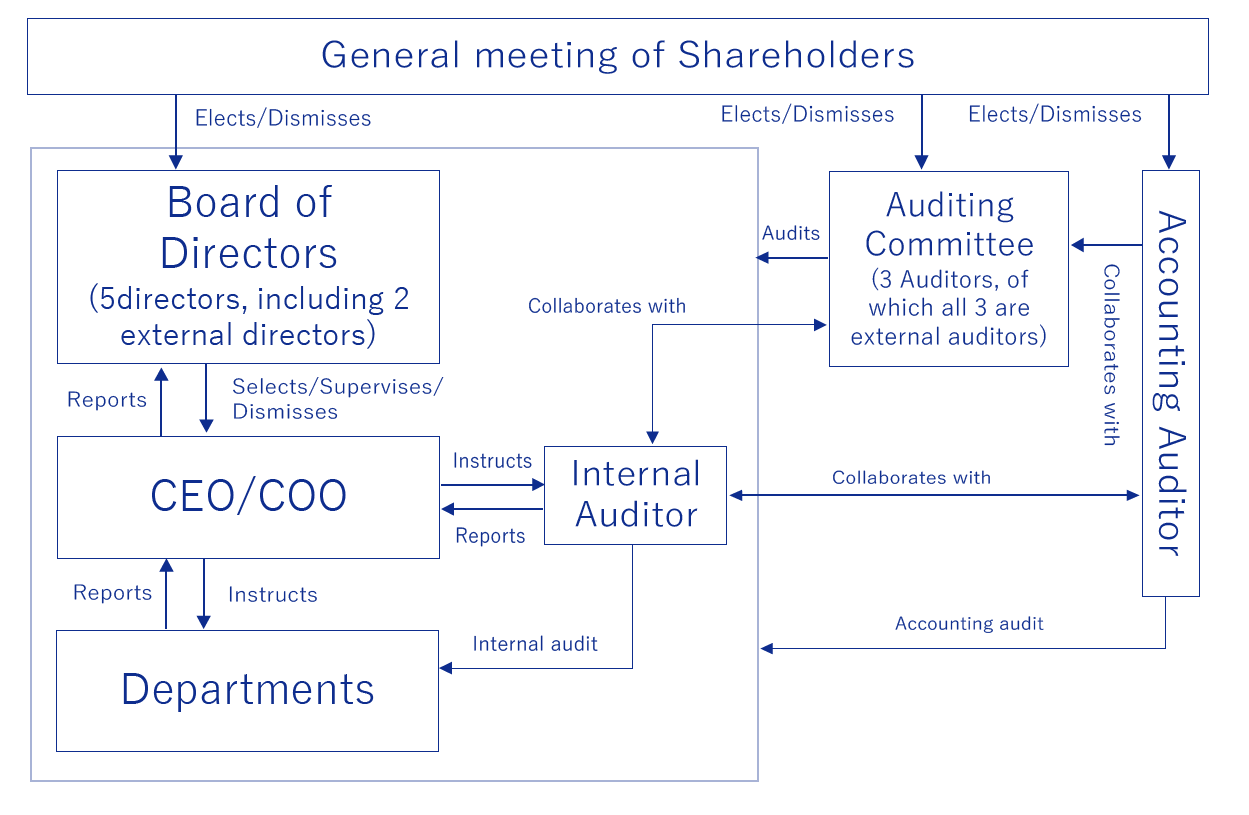 Maintenance of internal control systems
The basic philosophy and state of maintenance of our internal control systems are stipulated as shown below, and carried out through the roles of each employee.
(a) A system for ensuring that the execution of the roles of directors and employees conforms to our regulations and articles of incorporation
(b) A system for storing and managing information relating to the execution of the roles of directors
(c) Policies and other systems for managing the risk of loss
(d) A system for ensuring that the roles of directors are executed efficiently
(e) A system for employees that are required by auditors to be designated to assist the roles of the auditors
(f) Items relating to the independence of the employees in (e) above from directors
(g) A system for directors and employees to report to auditors and other systems relating to reporting to auditors
(h) Other systems for ensuring that audits by auditors are performed effectively
(i) A system for excluding organized crime groups
Internal audits and auditing of auditors
In order to enable proper management of work and prevent wrongdoing, StemRIM employs a system where two internal auditors are appointed and perform internal audits based on the "internal auditing regulations" that set down the basic rules relating to internal audits. The internal auditors methodically audit the status of work in each department each period and verify that internal rules are complied with and that risks are being prevented. We strive to perform highly effective audits, by regularly checking the status of improvements to matters pointed out by internal audits.
Auditors perform audits effectively, auditing the execution of work by directors based on the auditing plan set down by the auditing committee, for example by attending meetings of the board of directors, investigating company assets and work, and holding regular interviews with the COO.
Auditors, internal auditors and accounting auditors coordinate, for example through exchange of opinions, to increase the effectiveness and efficiency of audits.
Relationships with the external director and external auditors
The Company's two external directors and three external auditors maintain no personal, business or other interest-based relationships with the Company. Accordingly, we believe they are able to supervise and audit management from a perspective that is independent of the Company's operations. The role of the external directors is to strengthen the supervisory function of the directors and Board of Directors from an independent perspective. The external auditors liaise closely with the full-time auditors and collect information within the Company as needed. Their role is to strengthen the auditing function of the Board of Auditors. In this manner, the Company has adopted a corporate structure in which the external directors and external auditors function appropriately. As a result, we believe this structure ensures appropriate and efficient decision-making by the Board of Directors.
Although the Company has not set specific standards for the independence of external directors and external auditors, the Company has appointed persons who can perform their duties from an independent and objective standpoint based on their interests and background. In addition, external directors and external auditors cooperate with each other by discussing, reporting, and exchanging information with corporate auditors, internal auditors, and accounting auditors as necessary in their respective supervision or audits.